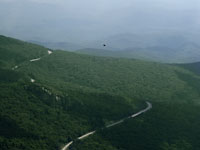 Watauga County in Western North Carolina is located in the Appalachian Mountains. Major towns located within this county are Boone, Blowing Rock, and Valle Crucis. This county was formed in 1849, named for the Watauga River which is Native American for "beautiful water." Watauga County is known for its distinct four season weather, allowing residents and visitors to enjoy the warm temperatures of summer, the bright fall foliage, fluffy snow during winter and new spring flowers. With a small town feel, Boone has some of the benefits of a larger metro region because of the presence of Appalachian State University and the technology the college brings to the area. From business to shopping and dining, Boone is the hub of Western North Carolina. Watauga County has something for everyone, whether you are looking for a place to retire or a small town, rich in cultural arts and entertainment.
Economy
The economy of Watauga County is driven by the presence of a major state university, Appalachian State University. Appalachian State employs many residents of the area. Watauga County has one of the lowest annual unemployment rates in the southeast. This area has booming year-round tourism, a regional medical center and a large retail market.
Hospitals
The Watauga Medical Center is located between Boone and Blowing Rock. The medical center is a multi-million dollar facility with services ranging from outpatient chemotherapy treatments to emergency and wellness care.
Schools
Watauga County schools have a graduation rate and SAT scores higher than those in over 90% of the state's school systems. There are 8 elementary schools, 1 high school and 1 private school, Appalachian Christian School.
Activities
Watauga County is a charming mountain community full of all sorts of activities for all age groups. Appalachian State University provides the town with a variety of cultural arts events, including music, plays, and speech presentations. The Blue Ridge Parkway cuts right through Watauga County, and there are a number of outdoor activities that take place on and around the parkway. Hiking, biking, and fishing are among some of the most popular outdoor activities in the area. Watauga County is home to Appalachian Ski Mountain, which is perfect for all levels of skiers and snowboarders. A terrain park hosts many snowboard competitions, and is one of the best terrain parks in the area. Between Blowing Rock and Boone is Tweetsie Railroad, where guests can bring their kids for some old fashioned fun. The Blowing Rock, a massive cliff that sits 4,000 feet above sea level, is North Carolina's oldest travel attraction. The Tanger Outlets are located in Blowing Rock, with over 30 designer stores to spend an afternoon of shopping. Blowing Rock and Boone have several specialty boutiques along their downtown areas along with a wide variety of places to eat.
Please click on the following links to view detailed area information: